If you're following along at home with your own copy of Raising Happiness, this what I got out of Chapter 2 with a little help from conceptual metaphor analysis.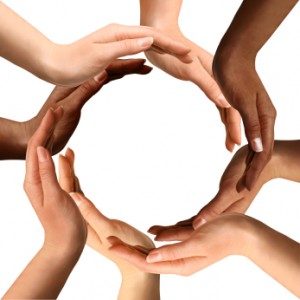 "I want to keep the news of our pregnancy to ourselves for a while," my husband Matt said. "This is a private matter and it's a scary situation. I don't want to just dump it on people."
I strongly disagreed with him. Given what the doctors had predicted, we were headed for rocky times—a month in the hospital for me and at least that much time in the hospital for our twins once they were born. This was not the time to keep news to ourselves.
People often talk about abstract concepts—patience, control, power, news—in terms of an object metaphor. We say, "I lost my patience." "They grabbed control." "He throws his power around." Wekeep secrets and give news, as if it's something tangible such as a ball just hand over to someone. ("Here, take this news. I don't want it anymore.") And negative events are often framed as having weight, as in: unbearable news or the burden of bad news. Heavy sorrow.
"Doctors tell us there's a 50/50 chance that the twins won't make it," Matt reminded me. "I don't want everyone to know that we're expecting and then have to give them bad news. They'd all feel terrible for us and then I'd feel responsible for unloading on them."
"We can't do this all by ourselves," I countered. "And I don't want to hide our troubles from our friends and family."
That's the short story. Matt was wrong. I was right. Only I didn't say to him that way. I said this way, in the rest of the blog post.