In the most ideal of worlds, I would be able to completely rise above the mompetitions and still feel sisterly toward their participants without any hint of derision or condescension. 
But let's be honest. They still irk me. However, this post does help.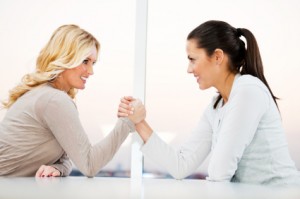 The competitor of all competitors, the "Mompetitor" is that mother who engages you through a series of questions about your child. And then she one-ups you with the stories of her child's precocious development. If your baby said his first word at eleven months, hers spoke at nine months. If your daughter was potty-trained by twenty months, hers trained herself at fifteen. If your kid performed at Lincoln Center at age twelve, her kid played Carnegie Hall at age ten.
I've met Mompetitors at the park and at the grocery store, but I didn't expect to meet one in the Newborn Intensive Care Unit during the twins' hospital stay. However, rather than brag about how her baby was bigger, better, and stronger than mine, this Mompetitor made it a point to emphasize how her baby was sicker and weaker. How many days were we in the hospital? (Ninety.) Her baby was in the hospital longer. How many surgeries did my babies have? (One each.) Hers had more. How many infections? How many blood transfusions? And so on. As if her situation were more serious than mine and therefore warranted more attention.
I found the Mompetitor to be irritating and annoying. Worst of all, I couldn't shake the notion that really my babies were sicker and weaker. All of a sudden I was sucked into the "mompetition" and the only way I knew how to handle the situation was to walk the other way when I saw her. I could label and validate my feelings of irritation and annoyance, but it didn't make them go away. And labeling and validating the Mompetitor's feelings of superiority just made me more irritated and annoyed.
So here's what I did about it.